After five weeks since the start of the Wild Rift Summer Academy, we have already been able to carry out the first analysis with the evolution of the different players according to their participation and training, observing certain elements that we will try to clarify on this analysis.
Preliminary rank results in ranked games
In the first instance, we will consider four elements:
The Commitment Index, being High, Medium or Low. The maximum total commitment was 27 points. All participants with more than 20 points were considered to have participated at a High level, between 15 and 20 points, an Intermediate level, and 15 or fewer points, a Low level.
The Play Rate, being either High, Medium or Low. We can determine that a High level is found in an average of 8 or more games per day, a Medium range, around 4 to 5 games per day, and a Low range in an average of 1 to 3 games per day.
Considering that the ranking was restarted right at the beginning of the first week, and with the adjustment that everyone had about two weeks to return to the original ranking, the "Initial Rank" is estimated as the second factor from here.
Finally, we have the "Current Rank" as of the date of publication of this analysis.
With all this information we made this table: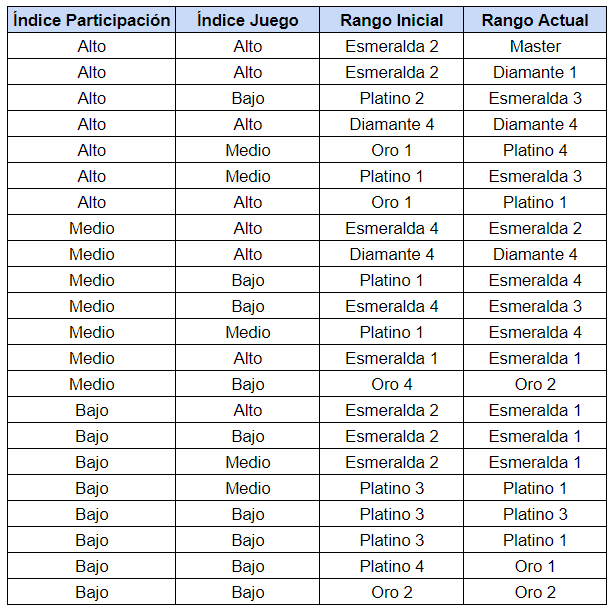 From this we can observe the following items:
Most of the players in Diamond and above have had a high involvement rate, except for one case with a Medium involvement rate.
Similarly, the majority of players with low involvement rates are in the lower Platinum to Gold ranks.
Most of the players, who have had a greater difference in levels from the start of the program to the present moment, have had a high level of involvement.
There is an exceptional case of players who have not made much progress, despite having a high rate of involvement. But in this case, having had a medium-low rate of play, it could be an explanatory reason for the small difference in rank.
We have not found a large difference in rank for those with a low or intermediate involvement rate.
Conclusions
With this, we can conclude two main elements for our Wild Rift Academy:
There is also a high correlation between the participation rate and play rate.
Not in 100% of the cases of high participation rate, there has been a clear improvement, even though there has been a high rate of play. This is something we need to study in depth and understand what points we need to improve to achieve a consistent improvement in 100% of the participants in the short term for this kind of programs